The Sucuri Firewall (WAF) is very easy to activate and takes less than 5 minutes to get it done. It runs in the cloud and doesn't require any hardware or software installation on your end. All you need to do is a quick DNS change to re-route your traffic through our Anycast CDN Network.
1) Click here and add your site by clicking on Add Site in the top right hand corner.
2) Enter your site URL such as example.com and then click on Add this Site.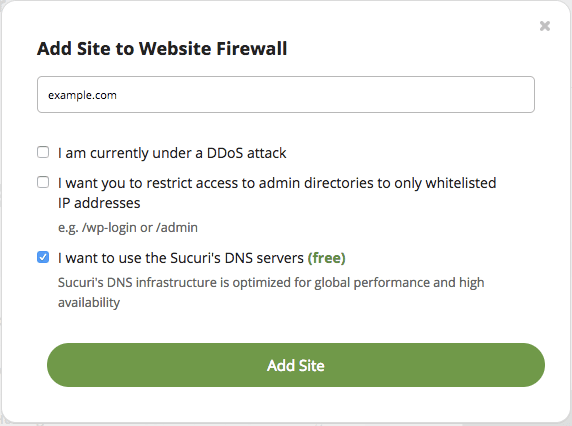 If your site is under a DDoS attack, you can select the first box and if you want to restrict access to the admin pages to only whitelisted IP addresses, you can check the second box.
3) Once your site is added, you will see a page with instructions on what to change on your DNS. We will provide new name servers for you to use for your domain to push the traffic through us.
If you have cpanel you can use our automatic activation, you just need to input your username and password.

If your site requires SSL (HTTPS), we will auto create it through Let's Encrypt within a few minutes of the site being live on our end. You may see a Domain Not Configured message until the Let's Encrypt SSL is issued. If you are on our Professional or Business plans, you can use your own custom SSL certificates and upload them on our dashboard.
And that's it. Once the DNS change is done, your site will be protected by our Sucuri Firewall. If you do not feel comfortable changing your DNS settings, just open a ticket in our system and we'll do it for you!