How do I upgrade my plan?
If you need to increase the number of sites covered on your AntiVirus subscription, you can easily upgrade your plan by going to your **Updates & Cancellations** section on the left side of your Sucuri dashboard.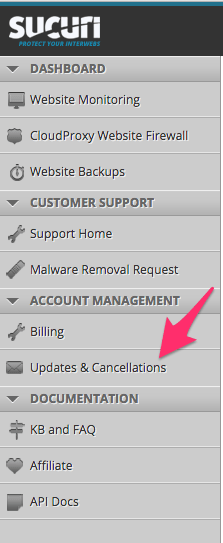 Once there, you will see your account settings that outline the type of subscription you currently have, the date your account was created, as well as your payment method.
Just below the account settings, you will see the Website AntiVirus section where you can increase the number of sites on your current subscription. Just click the drop down list and choose how many sites you want to upgrade to. Then click the "add more sites to antivirus" button.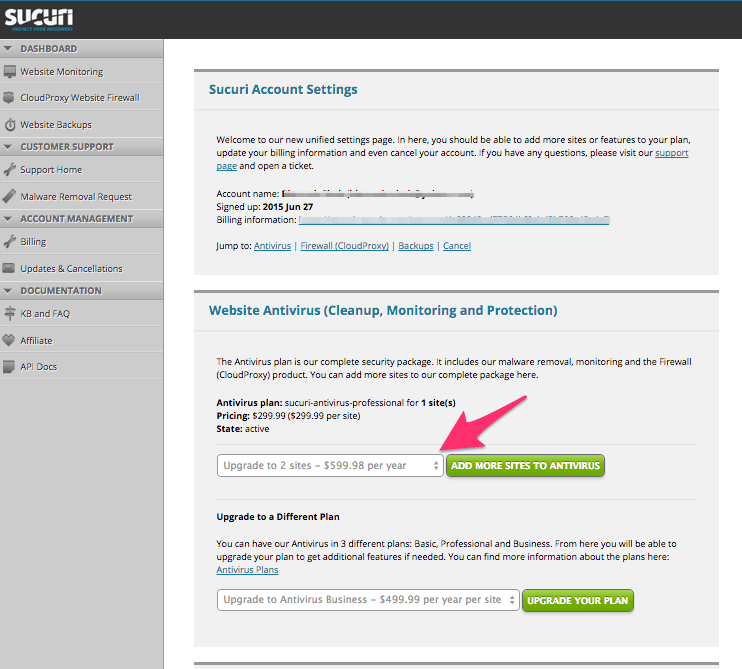 After your upgrade is complete, please be sure to log out of your Sucuri account and log back in to see the change reflected in your dashboard.
And that's it!
Please note: If you have a legacy account and are a part of our grandfathered pricing, please submit a billing support ticket and our account administration team will be more than happy to assist you with an upgrade in order to maintain your billing configuration.
Not sure how many sites you have?
Our definition of site is determined by unique domains.
A website is a collection of files and documents used to display content via the internet to those who access its Uniform Resource Locator (URL). Yes, your hosts will sometimes set up your account under one domain, URL, and create a number of subdirectories on that server for your other URL's. This is not used in our assessment of what constitutes a website.
If you have one server and 10 distinct subdirectories for 10 distinct websites then, under our pricing structure, that counts as 10 websites. Examples of where this doesn't apply are in scenarios where you have /blog, /forum, /membership and other similar subdirectories off the main domain.
Examples:
http://somesite.com/blog
http://somesite.com/forum
Where this would be treated as a unique domain is if the /blog or /forum is redirected to the following:
Examples:
http://blog.somesite.com
http://forum.somesite.com
We do clean subdirectories found at the root of the site, but we do not clean other databases outside of the main one for the domain and do not take care of blacklist issues associated with subdirectories that are not associated with the main domain.
Was this article helpful?