Your site is hacked. It's got malware, spam, phishing or maybe it's even blacklisted and you just signed up with us for help.
What's next?
Having your site cleaned up is very easy. There is only one thing you need to do: open a malware removal request ticket.
How to do it?
On the left side of your dashboard, click on malware removal request.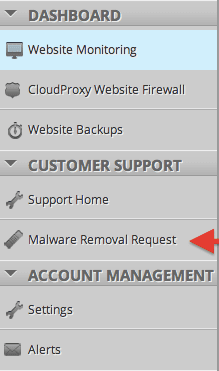 And this will pop up: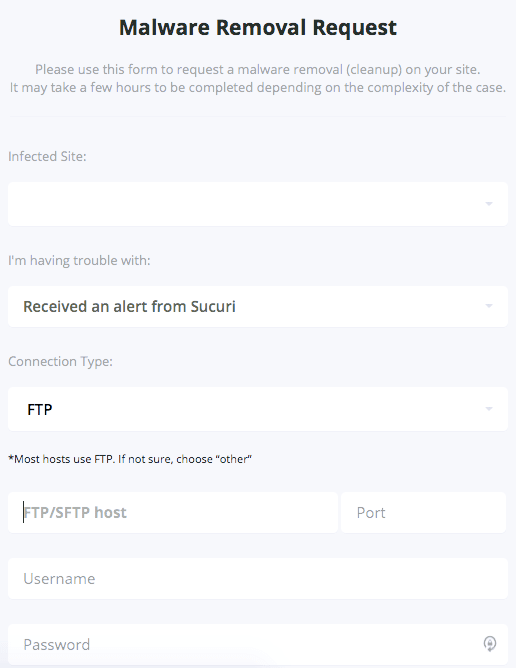 There, just choose which site you'd like to have cleaned, select the categories you are experiencing issues with, choose connection type (FTP, SFTP, SSH or Other / Don't Know) and enter your FTP/SFTP or cPanel credentials if you have it.
FTP stands for "File transfer Protocol" and SFTP for "Secure File Transfer Protocol". This is a connection mechanism used to log into servers to edit/add/remove files. We need this to log into your site and begin the cleanup process. If you do not know where to find your FTP/SFTP information, please contact your hosting provider.
Once everything has been filled out, just click on "submit request". Our system will try to establish a connection to your server to make sure everything is OK.
If we are not successful, we'll display the following image: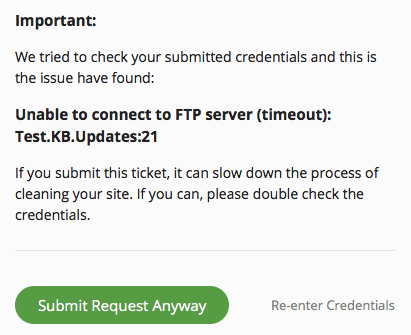 Keep in mind that not providing the right credentials may delay our cleanup process. If you do not know your FTP information you can provide your cPanel or web host login credentials as "Other"
After we receive your ticket we will have your site cleaned within the next few hours. You will receive an email if we need clarification, or once we have an update on your case. If you have questions, please update the ticket.