How We Communicate:
At Sucuri, all client communication is handled through our ticket system. When you have questions or need help, feel free to use the ticketing system in any of these conditions:
You think or know you are infected.
Your site is blacklisted.
You have gotten reports of suspicious activity on your site.
You are suffering a reinfection.
If you feel the website is not functioning the same after a cleanup.
Malware Removal Requests
A Malware Removal Request is what you want to submit if you know or suspect your website is currently infected or blacklisted. Using this ticket type ensures your ticket is appropriately assigned.
The ticket will require your website's URL (e.g. example.com), issues you are experiencing, FTP/sFTP/SSH/cPanel credentials (host, username and password).
Once the support team receives this ticket, it will be quickly addressed. The analysts will use the credentials provided to log into your website. It's important that the appropriate access is provided to avoid delays. The analyst will need to upload a number of PHP based scripts / tools to the server to initiate the remediation process.
These scripts / tools help us find and remove malware, spam, backdoors and other hidden content. Our team will use a combination of manual and automated techniques to detect infections and anomalies that might be causing issues.
By default, the remediation process will save a backup of every file touched. We will remove our scripts / tools and leave your website in working condition when we are finished.
Then, we will update the ticket with our clean up reports, letting you know exactly what we did on your site.
Submit a Malware Removal Request
On the navigation panel, you will see a Customer Support panel. Within this panel you will find and click the Malware Removal Request button.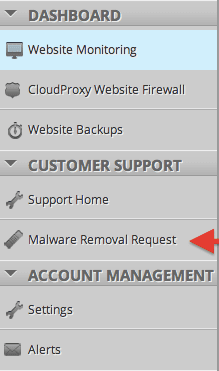 You will be presented with a dialog that will ask for all the information we require to access your web server:
We need this to log into your site to begin the cleanup process. If you do not know where to find your FTP/SFTP information, please contact your hosting provider.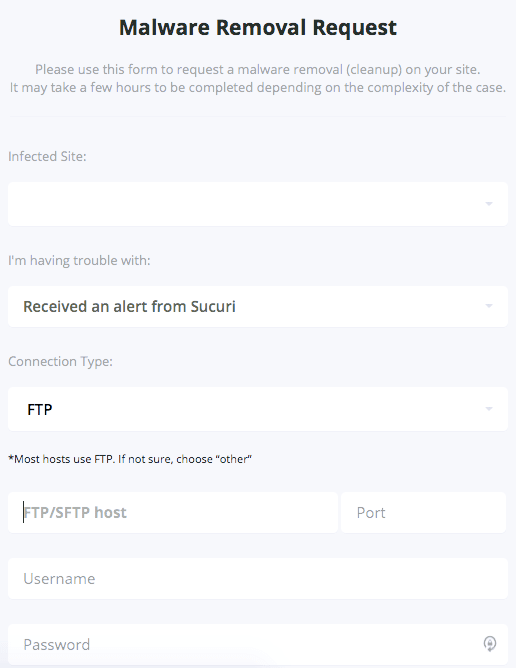 Once everything has been filled out, just click on "submit request". Our system will try to establish a connection to your server to make sure everything is OK.
If we are not successful, we'll display the following message: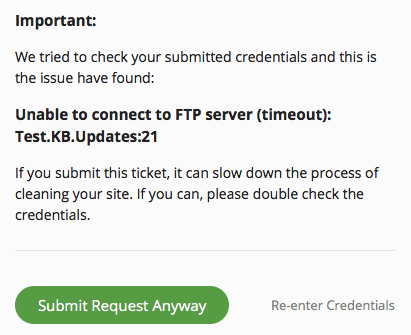 Keep in mind that not providing the right credentials may delay our cleanup efforts.
You will receive an email if we need clarification or once we have an update on your case.
If you have questions, please update the ticket.